The Review Phase of the 2014 PFUFA Draft is complete.
The following are hereby Invited to the 2014 Annual PFUFA Reunion as Potential Veterans.  Each one received the necessary votes and are eligible for possible membership.  Of course, the Final Vote will take place at the Reunion.
Joe Ballenger (Cincinnati Bengals), Mike Bonnell (Cleveland Browns), Ben Sanders (Dallas Cowboys), Don Vess (Dallas Cowboys), Catherine Highland (Denver Broncos), Nathan Hocking (Denver Broncos), Ed Griswold (Detroit Lions), Steve Beckholt (Houston Texans), Jennifer Schultz (Miami Dolphins), Marc Angelo (Miami Dolphins), Trey Miller (Minnesota Vikings), Syd Davy (Minnesota Vikings), Greg Scharfstein (New York Giants), Ray Hoffman (New York Jets), Ray Perez (Oakland Raiders), Shea Ohlott (Oakland Raiders), Guillermo Lopez (San Diego Chargers), Josh Casillas (San Diego Chargers), Earl Trent (Seattle Seahawks), Vince Vitale (St. Louis Rams), JC (Jon Chelena) Nasty (Tampa Bay Bucs), and Ted Albea (Washington Redskins).
Congratulations to all Potential Veterans!!  A job well done.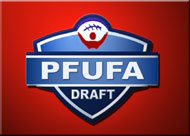 THE REVIEW PHASE OF PFUFA DRAFT IS NOW CLOSED!
The INVITATION Phase has begun.
All Potential Veterans have received their notifications and are making plans to attend this year's Annual PFUFA Reunion.
Good luck to all the PV's.  See you in Canton.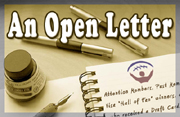 (Anytown, USA) This is an open letter to all PFUFA members, past members who have let their status lapse, all Visa "Hall of Fans" honorees, and anyone that has been issued a Draft Card.

| | |
| --- | --- |
| Visits today: | 3 |
| Visits this month: | 1553 |
| Visits this year: | 10708 |
| Visits to pfufa.org: | 5346223 |