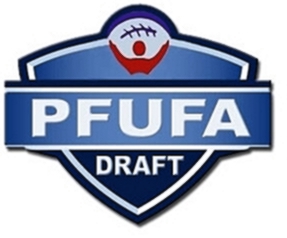 WELCOME!!
You need to read this page completely before continuing!!  Important information is posted here, and you must understand the information contained here.
Welcome to the APPLICATION PHASE of the 6th Annual PFUFA Draft.  We have held five great drafts thus far, and now we look forward to this year's.  There are FOUR separate phases in every draft, and the Application Phase is phase one.  At the end of this draft is the Class of 2013!!
The Application Phase of this year's PFUFA Draft was kicked off about 8:30pm on September 5, 2013 (the Broncos vs Ravens game) and will end when the clock at Superbowl XLVIII on February 2, 2014 reads 0:00.  During this phase, you must complete your draft application and submit it for approval.  We will check it for accuracy and completeness and approve appropriately.  After approval, you will be notified and given a link to pay the initial Draft Dues.  Once paid, you will be considered a Draft Prospect of PFUFA.  During the Application Phase, you must complete your draft application.
We will not extend this phase, and any application received after the deadline will be rejected.  Payment of draft dues may be received after the Super Bowl; however, you will not be an eligible Draft Prospect until payment is received.  The deadline for payment of draft dues is February 28, 2014.
If you have received a PFUFA Draft Card, please make sure you have it with you.  If you do not have it, please stop here, retrieve it, and then continue.  You will need the number on the back of the card, and you will NOT be able to proceed unless you have that number.
If you do not have a draft card and are wondering, "How do I join your organization?" please click here.
The PFUFA Draft was established by a By Law change to our organization at our 2007 Annual Business Meeting.  This is a very important piece of information!  Up to that point, PFUFA membership was only extended to those persons that were honored by the "Visa Hall of Fans."  From its outset, this organization has separated itself from other fan organizations.  Membership was exclusive then, and it still is today.  Not everyone that applies for the PFUFA Draft will be accepted.
At this point, you must understand a second important point.  Pro Football's Ultimate Fans Association (PFUFA) is NOT the Hall of Fans!  By applying for the PFUFA Draft you are NOT applying to be inducted as a fan into the Pro Football Hall of Fame in the Hall of Fans.  Instead, you are applying to become a member of an exclusive fan association.
On the next page, you will be asked to fill out an application for the PFUFA Draft.  You are responsible for completing this form as completely and accurately as possible.  Additionally, once you apply for the draft, you will be responsible for maintaining current information.  The form has two areas that will require you to think hard about your answers.  The first area is your biography.  Please take your time--possibly write it down, proof it, and correct it in a program like Notepad or MS Word then "cut and paste" it into the form.  The next area will be charitable activities.  In our mission statement, we include charities as one of the three main pillars of our organization.  You will need to provide details about yourself concerning this area.  (Please note that charity is a broad subject and is not limited to donating or raising money.  Our definition to charity is:  Charity is improving someone else's life at a cost to your own.  [A cost being defined as time, money, or resources.] )
When you complete the form on the next page and hit the submit button, it will be sent to our Membership Officer for review.  Once your application has been found to be accurate and complete, you will receive an email stating your application has been reviewed and asking for payment.  You will then be required to pay Draft Dues of $32.  Our default payment system is PayPal.  If you have a PayPal account, you will need to login to your account to complete this transaction.  If you do not have a PayPal account, at the login page of PayPal there will be credit card options to the left.  You can simply choose this option to pay with a major credit card.  If neither of these options will work for you, then you will need reply to the Membership Officer to arrange other payment.
By completing the form on the next page, you are agreeing to and pledge to abide by PFUFA's mission statement and By Laws.  If it ever comes to the knowledge of our officers that you have violated either or have acted in such a manner that is unbecoming of PFUFA, you application will be rejected and you will not receive a refund.  You can read the By Laws of PFUFA by clicking here.
The following is an outline of the other three phases of the PFUFA Draft:
Review Phase: The Review Phase will begin the day after the Super Bowl and will end on or before March 31st.  During this phase, the Membership Committee will review each draft application as well as each communication received from the Draft Prospects.  The purpose of this period is to sift through and select the "best possible candidates" and invite them to the annual PFUFA Reunion.  A Draft Prospect must receive 60% positive vote to move to the next phase.  Not every Draft Prospect will receive 60% positive vote.
Invitation Phase: The Invitation Phase will begin on or about April 1st.  During this period, Draft Prospects that receive 60% positive vote during the Review Phase will receive an official letter from the Membership Officer, will be classified as a Potential Veteran, and will be invited to the upcoming Annual PFUFA Reunion.
Membership Phase: The Membership Phase will begin and end at the Annual PFUFA Reunion.  During this phase, the invited Potential Veterans will be spoken to, observed, and evaluated.  It is the purpose of this phase to make sure that the potential veteran WANTS to be a member of our organization, and that the organization WANTS the potential veteran to become a member.  A Potential Veteran must receive an 80% positive vote to become a full member.  Not every Potential Veteran will receive 80% positive vote.
If you have any questions concerning the information contained here, please click here.  If you do not, please proceed by clicking on the image below.
*** IMPORTANT *** Before you submit your application or just after, please send an email to This e-mail address is being protected from spambots. You need JavaScript enabled to view it so we can look for it.  (In that email, tells us who gave you the PFUFA Draft Card.)
Karl Sides (Ram Man),
President, PFUFA