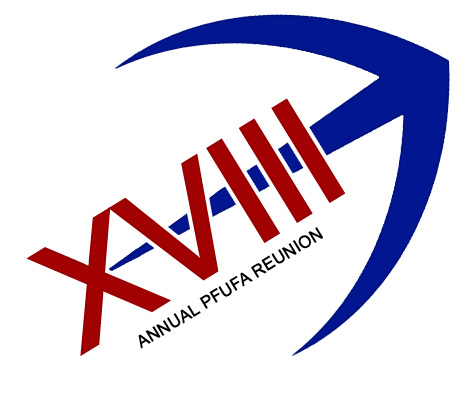 2016 PFUFA Reunion Itinerary
August 3 to 8, 2016

Weekend in Review:
The 2016 reunion is in the books and I hope everyone enjoyed themselves. This year's party saw our largest crowd and we even hosted Dave Robinson HoF Linebacker from the Green Bay Packers. We introduced some new things like the Cigar bar (that raised over $500. For the J. Babe) and we found some hidden talent when our members belted out some classics on Karaoke Saturday night.
We also celebrated our fallen brothers Raider Ron Rickard and Fly Eagles Fly Nelson Titter only the way the PFUFA can. Together we gave Janet Rickard a view of what Ron meant to us and the effect he had on the PFUFA and the kids at the J. Babe. We also named the annual golf tournament "The Nelson Titter PFUFA invitational tournament".
We welcomed 12 new members to our organization, the class of 2016! We also re-elected Stephanie Phillips (secretary), Christie Lopez (treasurer) and Cindy Ricci, Shawn Moore (Board of Directors) in addition to newly elected Chip Riley (Membership Officer) and Ted Currier (Board of Director). I'm looking forward to see what new ideas and energy the class of 2016 will bring to our organization.
Finally, the J. Babe Stern event saw the largest crowd of kids we have ever hosted and went the smoothest it ever has. Stuffing the book bags at the hotel was a stroke of genius and I thank Christie Lopez for taking control of that and with her parents help and recruiting the class of 2016 stuffing made the Babe run smoothly. We also had a record number of bikes this year and I think every child left with a smile on their face.
In my opinion, this was the best reunion to date. Together with the committee chairmen, we are already working on next years party! If you are interested in joining a committee please contact Old Man Jay Negin (reunion), Bukdog Bill Walters (charity), Big John Robinson (store) or Burnt River Bob Hostutler (sponsorship)
Good luck to everyone this season!
Karl Sides
Ram Man
President of the PFUFA 
**** FINAL ITINERARY ****
WEDNESDAY – 8/3/2016
5:00 pm – Hospitality Room Opens. The room will be stocked with snacks and beverages.
THURSDAY – 8/4/2016
10:00 am to 2:00 pm - Pro Football Hall of Fame's "FIRST PLAY" (McKinley Museum) - Thousands of kids will be lined up through Canton and will pass/hand a football through the city and parks that will end at the Hall of Fame.  The Hall of Fame would like our organization to start at the south end of Monument Park at 9:30 and work our way to the Hall of Fame. Parking will be available in the Hazlett lot(#1) at the McKinley Museum and the shuttle will take all members back to their cars following the event. Food will be available at event that follows First Play (If you would prefer not to make the walk – please join in the festivities in the normal gathering place at the HOF around 10:00 am. Shuttle will leave the hotel at 8:30.
1:00 pm - 4th Annual PFUFA Golf Tournament (Willandale Golf Course)1pm tee time Holes:18    Cost: $35.00 per golfer  (includes 2 mulligans) Payment will be collected the day before and will be paid as a lump sum to the golf course.  Prizes will be awarded for closest to the pin, etc.  All proceeds after that will be donated to PFUFA and/or the Stern Center.   If you are going to play, please contact Stephanie Phillips at This email address is being protected from spambots. You need JavaScript enabled to view it..  (Fans need to be at course by 12:30 pm)
5:00 pm- Gold jacket Dinner (Memorial Civic center ) Be there in person THURSDAY, AUGUST 4, 2016, to witness the Class of 2016 Enshrinees receive their jackets, one of three iconic symbols of induction -- the other two being the bronze bust and the ring.
6:00 pm- 9:30 pm-Red Carpet Movie Premiere of "25,000 Miles to Glory" (Palace Theater 605 Market Avenue Canton) From 6-8pm Members & Potential Veterans welcome to sign autographs and pose for pictures with kids on the red carpet prior to the 8pm showing of "25,000 Miles to Glory" (www.25kmilestoglory.com) by Grayson Berry. The film features many members of the PFUFA and all proceeds are being donated to the J.Babe Stern Center! We'll have shuttles available.
FRIDAY – 8/5/2016
9:30 am – Float Judging for Grand Parade (TBD) - Our sponsor encourages as many fans as possible to participate in this event.  Fans will meet in the hotel lobby by 8:15.  ALL 2016 POTENTIAL VETERANS ARE REQUIRED TO ATTEND THIS EVENT. All PFUFA members and guests are encouraged to participate. Shuttle will leave the hotel at 8:30.
12:00 pm to 1:00 pm - PFUFA Potential Veteran Meeting (Comfort Inn Hospitality Room) -  In this meeting, the President will have an open forum meeting with all Potential Veterans to discuss the weekend, the draft process, the history of PFUFA, the meaning of being a PFUFA member, and the PFUFA Challenge Coin.  This is a MANDATORY meeting for all Potential Veterans being considered for membership.  This is a closed meeting available to Potential Veterans, PFUFA officers and the PFUFA Membership Committee only.
1:00 pm to 1:30 pm - PFUFA Potential Veteran Meet & Greet (Comfort Inn Main Lobby) - Members are invited to visit with the 2016 Potential Veterans. Around 1:15 each Potential Veteran will give a "short" speech introducing themselves to any members in attendance.
2:00 pm to 4:00 pm - Annual PFUFA Business Meeting (Willandale Golf Course) is open to all dues paying members of PFUFA. ONLY ACTIVE MEMBERS can attend. This meeting is to keep members informed and vote on important issues. Shuttles will be available.
4:00-??? Cornhole Tournament
7:00 pm to 12:00 am - PFUFA Tailgate Party - Please plan accordingly!! As always, this will be a "pot luck" tailgate, so bring your favorites to share with fellow members and their guests. The success of this event depends on your participation. We encourage everyone to bring something.
SATURDAY – 8/6/2016
8:00 to 10:00 am - Timkin Grand Parade (Downtown Canton) - All Fans participating in the Grand Parade will leave from the hotel lobby.  Shuttle will leave the hotel at 6:00 am.
10:30 am to 12:00 pm -- PFUFA Ultimate Fan Event at the HOF- A tented area with tables and chairs has been made available for this excellent opportunity to promote the PFUFA, sign autographs and take photos with visitors to the HOF.  The PFUFA will have subway sandwiches and water available to the members at the event.  Shuttle service is available for those who would like to attend the PFUFA Charity Event at the J. Babe Center afterwards.
1:30 pm to 3:00 pm - PFUFA Charity Event at the J. Babe Center - The Browns Backers have volunteered to cook for the kids. There will be music, food and water for the members and hundreds of kids to meet and treat! There will also be a "Big" Raffle for the kids! Members are asked to donate any memorabilia they would like included in the raffle. The J. Babe Center has suggested bringing school supplies to hand out.
3:45 pm - Final Vote Results - All Potential Veterans are to meet in the Comfort Inn Hospitality Room. This is a closed meeting available to Potential Veterans, Membership Committee members and officers only.
7:00 pm to 11:00 pm - Enshrinement of the Pro Football Hall of Fame Class of 2016. We are encouraging as many fans as possible to attend. This is at Fawcett Stadium next to the Hall of Fame. (Event is sold out)
8:00 pm to TBD - 5th Annual PFUFA Charity Texas Hold'em Tournament.  We will have our charity hold'em tournament in the hospitality room, buy-in will be $10.00 and buy-backs will last for the first hour.  This is all for charity and no one will win any money! Trophies will be given out for first, second, and third places.
10:00 pm -- THE AUCTION WINNERS will be drawn.  If you win an item, please pick it up at the hotel hospitality room.
SUNDAY – 8/7/2016
8:30 am to 12:00 pm – PFUFA Awards  Breakfast and Class of 2016 Induction Ceremony at the Pro Football Hall of Fame - Our PFUFA awards will be presented, the new draft class will be recognized. Shuttle will leave the hotel at 7:30 am.
12:30 pm - 2016 HOF Enshrinees Game Day Roundtable - An unscripted, up-close & personal format where the enshrinees share stories and memories of their careers. Located at the Memorial Civic Center in Canton
2pm- Welcome to the PFUFA. Informal get together with President in small rear courtyard to ask questions about the group and being a member of the PFUFA.
MONDAY – 8/8/2016
12:00 pm – Hospitality Room Closes and the 2016 PFUFA Reunion ends.