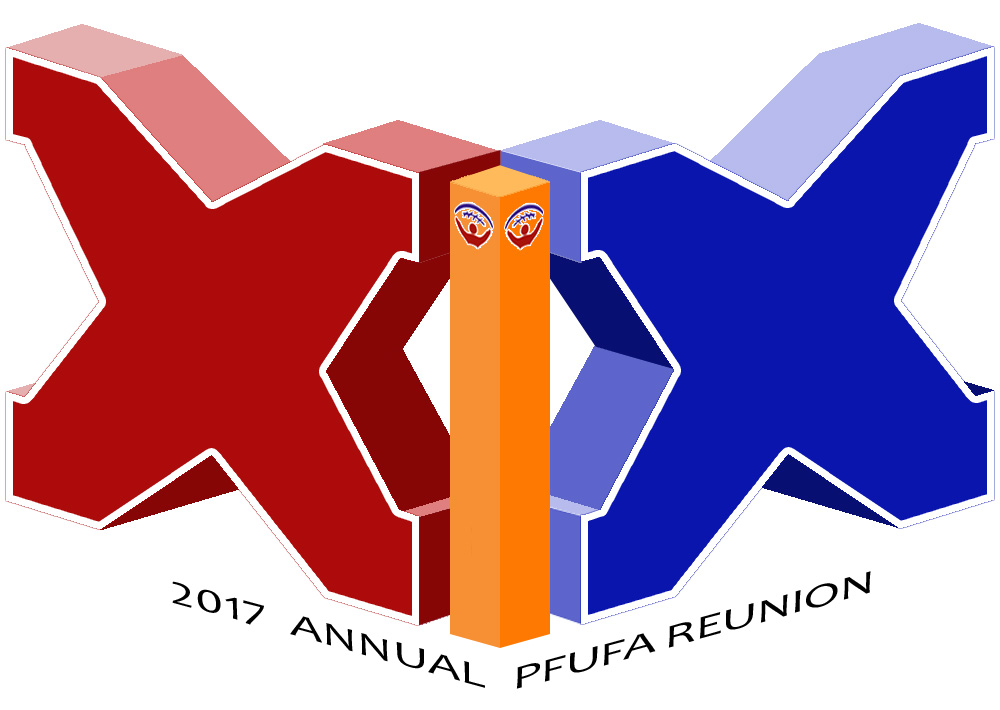 2017 PFUFA Reunion Itinerary
August 2 to 7, 2017 

Weekend in Review:
2017 saw us limping into our annual reunion, having a few members sustaining illness and injury (Donna Mayo, Billy K, Wayne Sargent) including Candice Chifici and Dawn Hopkins arriving in walking boots. The rest of our family arrived safe and healthy and ready to turn Canton on its ear! We unveiled two new items this year, the first annual PFUFA 18-month calendar and Danny Dillman unveiled the complete PFUFA history on the group's website. 
2017 saw the PFUFA put into the spotlight at the Hall of Fame Enshrinement Ceremonies with our members doing interviews with NFL Play Football reporters, Interviews with Good Morning Football on the Parade route, a welcome to our members on the giant LED sign at the Hall of Fame and finally a half page article in the Canton Repository about our organization, President Karl Sides "Ram Man" and Membership Officer Chip Riley "Fired Up"  and what the group does at the J. Babe Stearn center every year.
The 2017 reunion had one of the biggest changes to date when their Hall of Fame shuffled its schedule moving "First Play" to Wednesday and put the Hall of Fame Game on Thursday Night. This caused us to modify our agenda and allowed us to expand our annual party at the J. Babe Stern Center. Vice President Bill Walters "Buk Dog" added a new Disc Golf tournament on Thursday afternoon and found a new sponsor for the annual cornhole tournament with Slick Woodys who donated a set of boards in the Chinese auction and awarded boards to the tournament champions this year. 
The Saturday party at the J. Babe Stearn Center saw a record turnout this year as we blew through 350 backpacks and had to run to the store for more! The long lines and extended time the PFUFA was there, reminded me of the early days at the Stearn center. We also had a supply of toys and bikes that would rival some department stores thanks to our generous members that we raffled off to the kids. The J. Babe event is always the pinnacle of our weekend and this year saw our best event ever as we Joined the Mayor in presenting awards to the center champion baseball team and we honored Mrs. Rosalie Stearn on her 90th birthday.
Finally, we welcomed our new members to the PFUFA, self-titled 17 in 17, the new veterans of the PFUFA.  Albert Owens (Bucified), Alison P. Thornton (Ali Jag- Cat), Carl Conforti, Dale McCord (Big Country), Dwight Gorder, Fred Mathis (AlphaDawg), Jaime Castro, Jeffrey Mitchamore (BOSSHAWK), Joe Scaldara (Cat Daddy), Joseph Carlson, Kayla Caskey, Keith Smith (Crusader Raider), Michael Meslovich (Turf Monster), Mirta Cordoves, Norb Caoili, Ronald Runyan (Nomad), and Shawn P. Walchef.
We welcome them and I am sure they will do fantastic things for the PFUFA.
In closing there is zero down time this year for the officers and committees as we are already working on next year's reunion the PFUFA's 20th annual reunion! Already in place a Bahama cruise for members in 2019, and even more things to come!  Speaking of, here are the results of this year's elections:
President- Karl Sides "Ram Man"
Vice president – Steve Tate "The Owner"
Secretary- Stephanie Phillips
Treasurer- Christie Lopez "Huly"
Board of Directors:  Cindy Ricci, Bob Hostutler, Shawn Moore, Keith Kunzig, Ted Currier
 **** FINAL ITINERARY **** 
Wednesday – 8/2/2017
10:00 am to 2:00 pm - Pro Football Hall of Fame's "FIRST PLAY" (McKinley Museum) - Thousands of kids will be lined up through Canton and will pass/hand a football through the city and parks that will end at the Hall of Fame.  The Hall of Fame would like our organization to start at the south end of Monument Park at 9:30 and work our way to the Hall of Fame. Parking will be available at the McKinley Museum and the shuttle will take all members back to their cars following event. (If you would prefer not to make the walk – please join in the festivities in the normal gathering place at the HOF around 10:00 am. Shuttle will leave the hotel at 8:30. 
5:00 pm – Hospitality Room Opens. The room will be stocked with snacks and beverages.
Thursday – 8/3/2017  
8:00 am – 2nd Annual PFUFA Nelson Titter Golf Tournament (Willandale Golf Course)!   Holes: 18, Cost: $35.00 per golfer (includes 2 mulligans)
Payment will be collected the day before or the morning of and will be paid as a lump sum to the golf course.  We will also be offering 2 mulligans for a donation of $10.00.  Prizes will be awarded for closest to the pin, etc.  All proceeds after that will be donated to PFUFA and/or the Stern Center.   If you are going to play, please contact Stephanie Phillips at This email address is being protected from spambots. You need JavaScript enabled to view it..  (Fans need to be at course by 7:30 am) Tournament will include our 2nd Annual PFUFA Poker Run! At random Par 3's, golfers can purchase poker cards (contained in sealed envelopes) for $2/each or a maximum of 3 cards for $5.00 (total of 9 cards per golfer.)  At the end of the tournament, the golfer with the highest 5 card hand wins half the pot and the other half is donated to the J. Babe Stearn Center. Anyone can participate in the Poker Run. Volunteers are welcome to help as "Card Dealers" and if you're interested in signing up, contact Cindy "Purple Dame" Ricci (This email address is being protected from spambots. You need JavaScript enabled to view it.).
8:00 am – Bukdog's UFO Disc Golf Tournament - $20.00 ea - 1592 N Crater Ave. Dover Oh.  Questions and details please contact Bill "Bukdog" Walters (This email address is being protected from spambots. You need JavaScript enabled to view it.). All proceeds go to J. Babe Stern Center.
3:00 pm – Draftee Sponsoring 101 - An informal & informational meeting with direction, tips, & advice for drafting and steering Draft Prospects & PVs through the membership process. Located in the small rear courtyard.
8:00 pm – NFL Hall Of Fame Game (Tom Benson Hall Of Fame Stadium) - Arizona Cardinals vs. Dallas Cowboys
Friday – 8/4/2017
9:30 am – Float Judging for Grand Parade - Our sponsor encourages as many fans as possible to participate in this event.  Fans will meet in the hotel lobby by 8:15. All 2017 Potential Veterans are required to attend this event. All PFUFA members and guests are encouraged to participate. Shuttle will leave the hotel at 8:30. 
12:00 pm to 1:00 pm - PFUFA Potential Veteran Meeting (Comfort Inn Hospitality Room) -  In this meeting, the President will have an open forum meeting with all Potential Veterans to discuss the weekend, the draft process, the history of PFUFA, the meaning of being a PFUFA member, and the PFUFA Challenge Coin.  All 2017 Potential Veterans are required to attend this meeting.  This is a closed meeting available to Potential Veterans, PFUFA officers & the PFUFA Membership Committee only.
1:00 pm to 1:30 pm - PFUFA Potential Veteran Meet & Greet (Comfort Inn Main Lobby) - All 2017 Potential Veterans are required to attend this event.  Members are invited to visit with the 2017 Potential Veterans. Around 1:15 each Potential Veteran will give a "short" speech introducing themselves to any members in attendance.
2:00 pm to 4:00 pm - Annual PFUFA Business Meeting (Willendale Golf Course) is open to all dues paying members of PFUFA. This means ONLY ACTIVE MEMBERS will be allowed to attend. This meeting is designed to keep members informed and vote on important issues.  Shuttles will be available
4:30 pm to ??? - Cornhole Tournament - Please, see Shawn "WhoDeyBaby" Moore to sign-up
5:00 - Gold Jacket Dinner (Memorial Civic Center) - Be there in person FRIDAY, AUGUST 4, 2017, to witness the Class of 2017 Enshrinees receive their jackets, one of three iconic symbols of induction -- the other two being the bronze bust and the ring. 
7:00 pm to 12:00 am - PFUFA Tailgate Party - Please plan accordingly!! As always, this will be a "pot luck" tailgate, so bring your favorites to share with fellow members and their guests. The success of this event depends on your participation. We encourage everyone to bring something. All 2017 Potential Veterans are required to attend this event. Tailgate party will feature a Tailgate Cook Off to benefit the J. Babe Stearn Center! Contact Wayne "Ultimate Packer Fan" Sargent to participate (This email address is being protected from spambots. You need JavaScript enabled to view it.).
Saturday – 8/5/2017
8:00 to 10:00 am - Timkin Grand Parade (Downtown Canton) - Shuttle will leave the hotel at 6:30 am.  All Fans participating in the Grand Parade will leave from the hotel lobby.
10:30 am to 12:00 pm - PFUFA Ultimate Fan Event at the HOF - An excellent opportunity to promote the PFUFA, sign autographs and take photos with visitors to the HOF.  Shuttle service is available for those who would like to attend the PFUFA Charity Event at the J. Babe Center afterwards.
1:30 pm to 3:00 pm - PFUFA Charity Event at the J. Babe Center - The Browns Backers have volunteered to cook for the kids. There will be music, food and water for the members and hundreds of kids to meet and treat! There will also be a "Big" Raffle for the kids! Members are asked to donate any memorabilia they would like included in the raffle. The J. Babe Center has suggested bringing school supplies to hand out. 
3:15 pm - Final Vote Results - All Potential Veterans are to meet in the PFUFA Learning Center at the J. Babe Stern Center. This is a closed meeting available to Potential Veterans, Membership Committee members and officers only.
7:00 pm to 11:00 pm - Enshrinement of the Pro Football Hall of Fame Class of 2017. We are encouraging as many fans as possible to attend. This is at Fawcett Stadium next to the Hall of Fame.
8:00 pm to TBD - 8th Annual PFUFA Charity Texas Hold'em Tournament.  We will have our charity hold'em tournament in the hospitality room, buy-in will be $10.00 and buy-backs will last for the first hour.  This is all for charity and no one will win any money! Trophies will be given out for 1st, 2nd, and 3rd
10:00 pm -- THE AUCTION WINNERS will be drawn.  If you win an item, please pick it up at the hotel hospitality room.
Sunday – 8/6/2017
8:30 am to 12:00 pm - PFUFA Breakfast and Class of 2017 Induction Ceremony at the Hall of Fame - Our PFUFA awards will be presented, the new draft class will be recognized, and other events will take place. Shuttle will leave the hotel at 7:30 am.
12:30 pm - 2017 HOF Enshrinees Game Day Roundtable - An unscripted, up-close and personal format where the enshrinees share stories and memories of their careers. Hosted by Steve Marriucci. Located at the Memorial Civic Center in Canton
2:00 pm – Welcome to PFUFA -  Informal get together with President in small rear courtyard for the Class of 2017 to ask questions about the group and being a member of the PFUFA.
8:00 pm – Concert for Legends (Tom Benson Hall of Fame Stadium) Toby Keith & Kid Rock -  Tickets available through Hall of Fame website.
Monday – 8/9/2017
12:00 pm – Hospitality Room Closes and the 2017 PFUFA Reunion ends.