2007 PFUFA Reunion Itinerary
August 2-6, 2007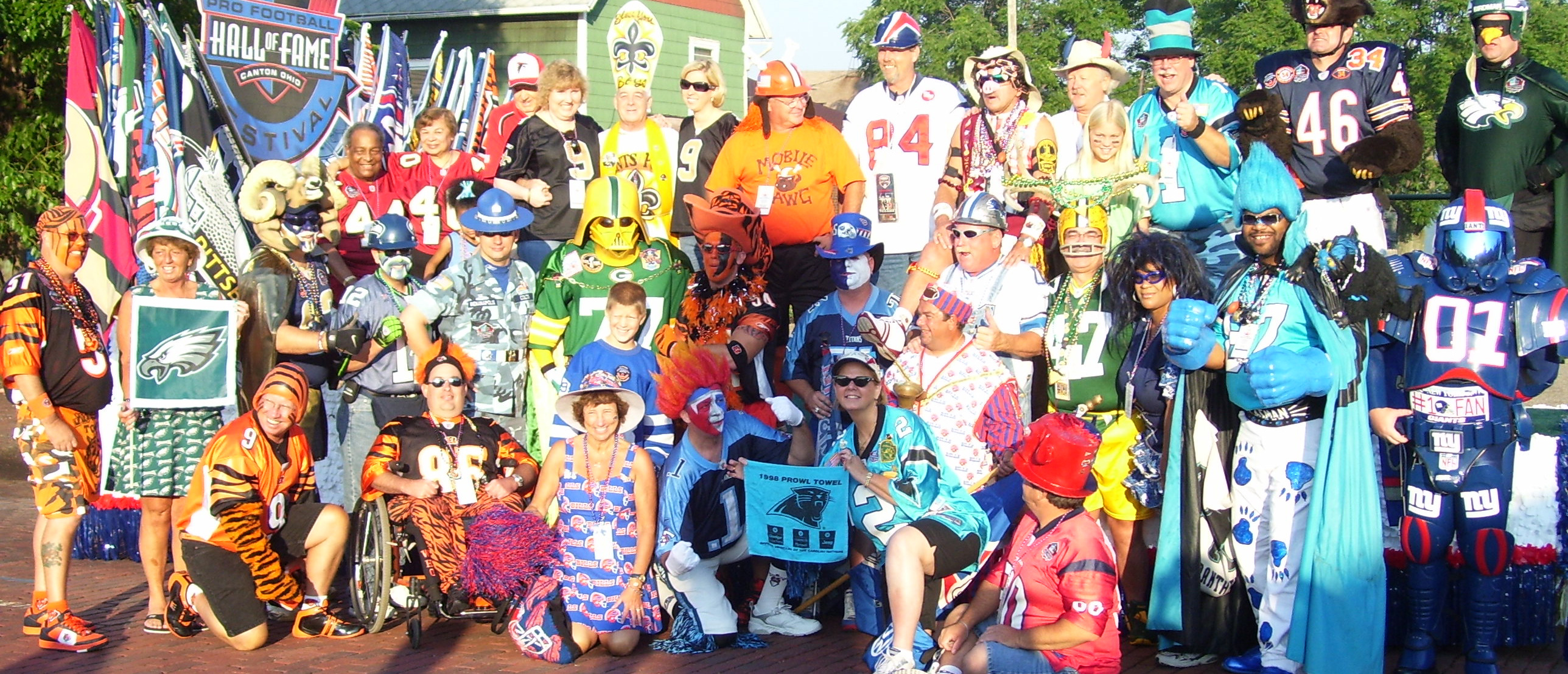 Weekend in Review:
The 2007 PFUFA Reunion was a "Back to the Future" gathering.  Instead of using the hotel in Akron, our group went back to the hotel in Dover, OH.  Due to the HOF weekend activities and PGA event, our organization went back to the Comfort Inn.
The image to the left is the first "official logo" implemented for a PFUFA Reunion.  This image was used for reunion items and was designed by Sgt. Colt.
At the 2007 PFUFA Reunion, our organization was  finally able to change the By Laws concerning membership.  This was a great success for group.  The INAUGURAL PFUFA DRAFT will begin on September 6, 2007 (NFL Opening Day) and will close on February 4, 2008 (the day after Superbowl XLII).  For more details on the draft and the business meeting, click here.   (You must be logged in to read minutes.)
The new officers elected at the 2007 PFUFA Reunion were:
| | |
| --- | --- |
| President: | Jeff Pintea (Pantherman) |
| Vice President: | Danny Dillman (Sgt. Colt) |
| Treasurer: | Joanie DeKoker (Best Bills Fan) |
| Secretary: | Sheree Pintea (Mrs. Purr) |
The "membership gift" for the 2007 PFUFA Reuion was:  a "throw blanket."
Danny Dillman
Vice President, PFUFA
8/02 Thursday
12:00 Noon - Hospitality Room Opens We have the meeting room reserved for our hospitality suite. The room will be stocked with snacks and beverages.  Sit back and relive old memories and plan this years NFL schedule with the Best fans in the world. This area will be open throughout the weekend.
11:00am-10:30pm - National Ribs Burnoff (Stark County Fairgrounds)
8/03 Friday
11:00am-10:30pm - National Ribs Burnoff (Stark County Fairgrounds)
2:00pm-4:00pm - Business Meeting This is the annual PFUFA Business Meeting open to all dues paying members of PFUFA. If you will be arriving early please plan to join us to hear about your organization. This meeting is designed to keep members informed of what is going on in and around PFUFA.
5:30pm- 7:00pm - Cocktails at The Elks Lodge We will have an informal cocktail hour at the Elks Lodge just minutes away from our hotel. There will be a cash bar.
7:00pm-10:00pm - Buffet Dinner at The Elks Lodge (Buffet, 1 Red Meat, Chicken, and Fish.  Children under are 12 free) We have an exciting evening planned starting with a buffet dinner that will be followed by our PFUFA awards presentation, The Fabulous Football Floozies, and updates about the weekend. PFUFA has several special guests that are planning to attend (media, sponsors etc) A cash bar will be available during our dinner.
8/04 Saturday
5:30am - Fans Leave for the Grand Parade All Fans participating in the Timken Grand Parade will leave from the hotel lobby promptly at 5:30am.  (Plans are being made on transportation) The parade begins at 8:00am and all parade participants must arrive early. PFUFA and our sponsor The Health Plan request as many fans on the float as possible. Walkers are also encouraged if the float gets crowded.
6:00am - Guests Leave For Grand Stand Seating at the Parade All guests going to the parade will leave via carpool promptly at 6:00am
1:00pm-4:00pm - United Way Appearance and Charity Event Once again we are in the planning stages of having a charity event at the J. Babe Stearn Community Center. We will be posing for pictures, signing autographs and having a great time with hundreds of children. It will be an afternoon of fun and enjoyment for everyone. REMEMBER THERE WILL BE NO ALCOHOL PERMITTED AT THIS EVENT!
6:00pm - Enshrinement Class of 2007 Pro Football Hall of Fame This is a public outdoor venue at Fawcett Stadium next to the Hall of Fame. The HOF provides limited VI seating  to our group which we will offer on a first come first serve basis. The ceremony has moved this year to 6:00pm so it should be very crowded and will be televised by ESPN.
7:00pm-11:00pm - Tailgate at our Hotel The fans that aren't going to the enshrinement will be having a tailgate at the hotel on the back patio. This will be a "pot luck" of tailgating so bring your favorites to share with fellow members and their guests. The success of this event depends on your participation. We encourage everyone to bring something.
8/05 Sunday
1:00pm-3:30pm - Dover Community Picnic This is a new event that PFUFA is working on that will be a compliment to our United Way event.  All PFUFA members have to do is show up and sign autographs, and enjoy the surroundings and the fellowship of the Dover Community.
8:00pm - Hall Of Fame Game - Pittsburgh Steelers v New Orleans Saints This game will be at Fawcett stadium. PFUFA may have a tailgate party at this event in a designated area and it is currently in the planning stages. Information will be forthcoming. If you are planning to go to the game join fellow members at this event.
9:00am-10:00pm - Hospitality Suite will be Open Throughout the Day
8/06 Monday
Hospitality Room Closes and The 2007 Reunion Ends.