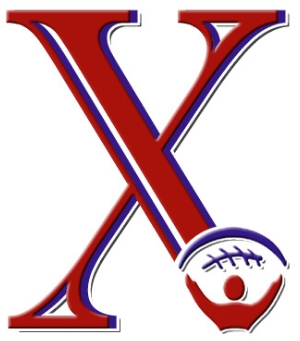 2008 PFUFA Reunion Itinerary
July 31 - August 4, 2008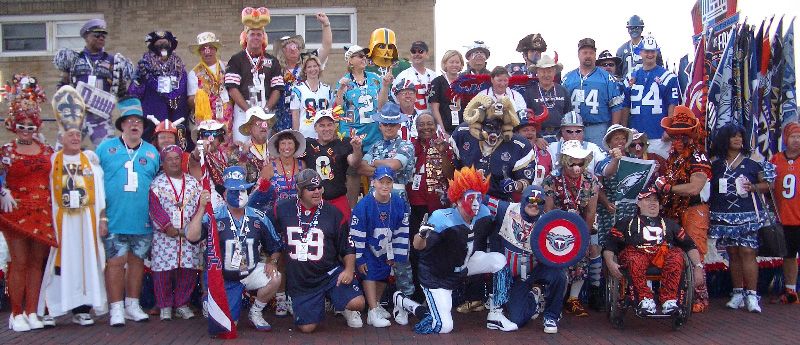 Weekend in Review:
Once again, the time has come and gone when all the craziest, most dedicated, fans of football converged on the birthplace of Professional Football. And this is my humble attempt to summarize Hall of Fame weekend.
The fans started pouring into the Comfort Inn starting Thursday afternoon and continued to arrive all day Friday.  Some even arrived Saturday morning.  On Friday afternoon, we held our annual business meeting where we discussed the popularity and success of our new website, and the possibility of revenue through sponsorship and advertising.  You can click here to read the business meeting minutes here, but you must be logged in.
After a few other issues, it came time to elect new officers. After two great years, "Pantherman" decided to step down as president.  He thanked the organization, we thanked him, and then he nominated "Sgt. Colt" to take his place.  Sarge was unanimously elected as our new president. After that, it was time for a new vice president, "Who Dey Baby" (me) and "Title Town's #1 Clown" were nominated.  It was a close vote and I was elected as the new vice president.  For Treasurer, it was only fitting that Joanie retained her position.  With Jeff stepping down, Sheree also stepped down as Secretary.  Stephanie Phillips was then nominated and elected as our new secretary.  She has since added responsibility of trying to sort out our history.
With the elections complete, we received our member gift, the PFUFA Challenge Coin.  These coins are very nice and have the PFUFA logo on one side and the Hall of Fame logo and our induction year on the reverse.  If you have received yours, make sure you always have it with you; you never know when you might be challenged!  Additional coins are also sold in the PFUFA store.
Friday night, we once again held our dinner at the Elks Lodge.  At the dinner, each draftee stood up in front of the group and told us about themselves.  As they spoke about how they felt about the organization and their dedication to their teams, they were stuffing dollar bills into the tip jars on the podium. (They could speak as long as they wanted, but had to be a dollar per minute.)  During this time, we also had a marriage proposal! Adam (Darth Packer) asked Candice (Saints Fan) for her hand in marriage, and surprisingly she said yes. (No word yet on whether she is going to let him wear the helmet in the wedding.)
Early Saturday morning, we started rolling out of bed, putting makeup on and getting our outfits just right. Then we carpooled to the parade route.  Once there we waited, took many pictures, danced to the music and waited some more.  (Our place in the parade was 107 of 170 this year.)  Once we finally got rolling, we spent the next 3 miles spreading our enthusiasm and excitement to all the fans along the route.  I think everyone now knows the words to "Hail to the Redskins."  Once the parade was over, we loaded up and headed over to the J.Babe Stearn Community Center.  After a short time of set up, the children started pouring in.  I love this time of the weekend!!  We signed autographs and gave out our goodies.  We had a great turnout this year and even had an appearance from the U.S. Army.  They brought a Hummer and a couple of soldiers by.  Staff Sergeant Kelly Hart and Sergeant Tommy Rieman were great and the kids loved them.  Besides the Army, we also added a free charity raffle for the kids.  The children loved it, and we are hoping to grow this for next year.
Once the charity event was over, our group split up; some went to the induction while others headed back to the hotel to get ready for our "world famous PFUFA tailgate party."  Once again, "tent city" popped up behind the Comfort Inn, and the fans began firing up their grills.  The aromas filled the air—ahh…heavenly!!  We had everything from brats to ribs to salmon to smoked cheese…and everything in between.  We also had appearances from the commissioner of tailgating Joe Cahn (www.tailgating.com) and Jay and Karen DiEugenio (www.yourtailgateparty.com and www.tailgatermonthly.com).  They are fine folks and were presented with challenge coins as honorary members of our organization.
About mid way through the night, we gathered to recognize and induct our 15 new members.  Our new president gave a small speech and spoke about the success of the PFUFA Draft.  All the new members were lined up and one at a time, they were called forward.  Standing before the new and old president, each was presented with a challenge coin in a small individual ceremony and welcomed into our organization with open arms.
The night then continued with more eating and festivities, and surprisingly Joe Texan went the whole night without catching anyone's grill on fire.  The night ended without incident and we all headed to our cozy beds, some of us later than others.
As Sunday morning rolled slowly forward, we got out of our beds and came to the sad realization that our Tenth Annual Reunion had come to an end. We packed up our stuff, loaded the cars down and said our good-byes.  Many arranged to see each other at games during the year, but other spoke of seeing each other next year.
So, as I finish writing this I am already thinking about next year.  And I left know, we have a group of great friends spread throughout this country…and that we only have 354 days until our next reunion.
Shawn "Who Dey Baby" Moore
Vice President, PFUFA
7/31 - Thursday
12:00 Noon - Hospitality Room Opens.  We have the meeting room reserved for our hospitality suite. The room will be stocked with snacks and beverages.  Sit back and relive old memories and plan this years NFL schedule with the Best fans in the world.  This area will be open throughout the weekend.
11:00am-10:30pm - National Ribs Burnoff (Stark County Fairgrounds)
8/01 - Friday
11:00am-10:30pm - National Ribs Burnoff (Stark County Fairgrounds)
2:00pm-4:00pm - The annual PFUFA Business Meeting is open to all dues paying members of PFUFA.  If you will be arriving early please plan to join us to hear about your organization. This meeting is designed to keep members informed of what is going on in and around PFUFA.
5:30pm- 7:00pm - Cocktails at The Elks Lodge.  We will have an informal cocktail hour at the Elks Lodge just minutes away from our hotel.  There will be a cash bar.
7:00pm-10:00pm - Buffet Dinner at The Elks Lodge (Buffet, 1 Red Meat, Chicken, and Fish.  Children under are 12 free.)  We have an exciting evening planned starting with a buffet dinner that will be followed by our PFUFA awards presentation, The Fabulous Football Floozies, and updates about the weekend.  PFUFA has several special guests that are planning to attend (media, sponsors etc) A cash bar will be available during our dinner.
8/02 - Saturday
5:30am - Fans Leave for the Grand Parade.  All Fans participating in the Timken Grand Parade will leave from the hotel lobby promptly at
5:30am.  (Plans are being made on transportation) The parade begins at 8:00am and all parade participants must arrive early.  PFUFA and our sponsor The Health Plan request as many fans on the float as possible. Walkers are also encouraged if the float gets crowded.
6:00am - Guests Leave For Grand Stand Seating at the Parade.  All guests going to the parade will leave via carpool promptly at 6:00am
1:00pm-4:00pm - United Way Appearance and Charity Event.  Once again we will be back at the J. Babe Stearn Community Center.  We will be posing for pictures, signing autographs and having a great time with hundreds of children. It will be an afternoon of fun and enjoyment for everyone.  REMEMBER THERE WILL BE NO ALCOHOL PERMITTED AT THIS EVENT!
6:00pm - Enshrinement Class of 2008 Pro Football Hall of Fame.  This is a public outdoor venue at Fawcett Stadium next to the Hall of Fame.  The HOF provides limited VI seating  to our group which we will offer on a first come first serve basis.  The ceremony has moved this year to 6:00pm so it should be very crowded and will be televised by ESPN.
7:00pm-11:00pm - Tailgate at our Hotel.  The fans that aren't going to the enshrinement will be having a tailgate at the hotel on the back patio.  This will be a "pot luck" of tailgating so bring your favorites to share with fellow members and their guests. The success of this event depends on your participation.  We encourage everyone to bring something.
8/03 - Sunday
8:00pm - Hall Of Fame Game - Indianapolis Colts v Washington Redskins.  This game will be at Fawcett stadium. PFUFA may have a tailgate party at this event in a designated area and it is currently in the planning stages.  Information will be forthcoming.  If you are planning to go to the game join fellow members at this event.
8/04 - Monday
Hospitality Room Closes and The 2008 Reunion Ends.