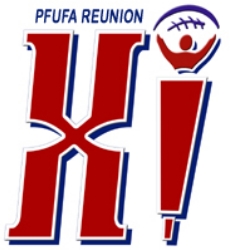 2009 PFUFA Reunion Itinerary
 August 6-10, 2009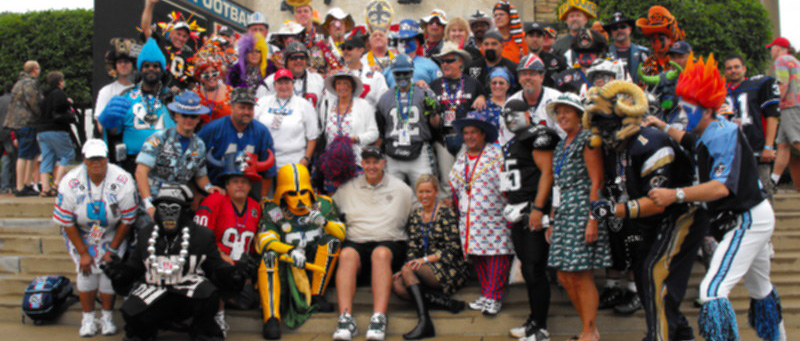 Weekend in Review:
Upon my arrival…on Thursday, August 6, 2009 in the afternoon, I found numerous people in the hospitality room. Amongst those there at that time were:  Sergeant Colt and his family, Jeff and Sheree Pintea, Greg Goodman and Cedric, Candice and Adam Dillman, The Pope and family, Cindy Pierce, Joanie and Susan, Ted Currier plus many others. The hot topic at that time was First Play.  After speaking with several people who attended this event I was able to find out that it went extremely well for PFUFA and the Hall of Fame.  First Play kicks off the HOF weekend…thousands of kids line the street of downtown Canton and end up at the Hall of Fame.  The kids pass the football to each other for a 3 mile stretch.  At the end they are given food and beverages donated by Chik-fil-et.  With such a large amount of kids, PFUFA stepped right in and began helping give out the food and beverages.
Friday the day began with some people going to help judge the floats that would be in the parade on Saturday.  The members of PFUFA held the annual business meeting.  (If you would like to read the minutes of the business meeting, click here. You need to be logged in to read this.)  Shortly after the meeting was adjourned everyone began gearing up for the big tailgate.  The tailgate was a great time.  A lot of people brought their specialty…mine of course is Cheese steaks!!!  Joe Cahn and Jay (top tailgates magazine) joined in the fun.
As always Saturday started very early in the morning…5:30 am to be exact!!  Everyone car pooled to get to the parade site.  Our float won an award…Best Originality….how proud we are for that honor.  Our float was moved up in the parade line so that we could get back to the Hall of Fame for our Charity event.  Speaking of which…the Charity event was held on the grounds of the Hall of Fame….another great time was had by all.  We saw a lot of kids come through our tent.
Saturday night the people who did not attend events at the HOF held another tailgate.  Everything was just as good the second time as it was the first!!!! There is nothing like a re-creation of something that was so superb the first time!
Sunday….what an ending to the weekend.  The draft prospects were on pins and needles.  As a group we went to the HOF for a catered breakfast.  The Draftee's were introduced and asked to say a few words.  There were tears shed.  What an emotional morning.  Keeping the draftee's on pins and needles there were awards given out.  The Bellringer "Friendship Award" went to Tony Mobile Dawg Shaeffer.  The Jason Carson "Bear Down J" award went to The Captain, Tim Young.  Joannie was given a gift for her years of service as treasurer of the organization.  After the awards were given out the Draftee's were once again called to the front of the room.  Danny and Who Dey Baby handed out Challenge Coins to what our newest members of PFUFA.
After more mingling and saying goodbye to friends and wishing them luck for their teams and for the football season….I had to say goodbye and get on the road.
Stephanie Phillips
Secretary, PFUFA
Hotel Information:
Comfort Inn, 2024 State Route 39 NW, Dover, OH (Exit 83, Inst. 77). (330) 364-8881.  This will the base of our reunion.  The tailgate and hospitality room will be located here.  Room prices will be approximately $115 per night.  Make your reservations now.  We have almost sold out this hotel, only a few rooms are left.  Be sure to identify yourself as a PFUFA member.  (www.comfortinn.com/hotel-dover-ohio-OH443?amp;promo=gglocal)
Knights Inn, 1256 W High Avenue, New Philadelphia, OH (Exit 81, Inst. 77).  (330) 339-4116.  This will be the 'overflow' area for our reunion.  We have negotiated a special price of $85 per night.  This is a 'basic' hotel that is clean.  Please make your reservations now.  Be sure to identify yourself as a PFUFA member.  (http://www.newphila-knightsinn.com/)
Thursday – 8/6/2009
10:00 am – Pro Football Hall of Fame's "FIRST PLAY."  This is an organized "first play" of the NFL season.  Thousands of kids will be lined up through Canton and will pass/hand a football through the city and parks that will end at the Hall of Fame.  PFUFA has been invited to participate and take prominent positions through the line.  (Be prepared to be in character.)
12:00 pm – Hospitality Room Opens.  The room will be stocked with snacks and beverages.  You can sit back, relive old memories, and plan the current season.  This area will be open throughout the weekend.
Friday – 8/7/2009
10:00 am – Float Judging for Grand Parade.  Our sponsor encourages as many fans as possilbe to participate in this event.
2:00 pm - 4:00 pm – The annual PFUFA Business Meeting is open to all dues paying members of PFUFA.  This meeting is designed to keep members informed and vote on important issues.
7:00 pm - 12:00 am – PFUFA Tailgate at hotel.  Our annual tailgate has been moved to Friday night!!!  Please plan accordingly!!  As always, this will be a "pot luck" tailgate, so bring your favorites to share with fellow members and their guests. The success of this event depends on your participation.  We encourage everyone to bring something.
Saturday – 8/8/2009
PFUFA is making a special effort to provide AS MANY FANS AS POSSIBLE to the Hall of Fame for the entire day of Saturday.  As such, we have adjusted our normal schedule and transportation will be provided for the fans to make this happen.
TBD – Fans Leave for the Grand Parade.  All Fans participating in the Grand Parade will leave from the hotel lobby.  Transportation will be provided for fans.  PFUFA and our sponsor The Health Plan request as many fans on the float as possible.  Walkers are also encouraged if the float gets crowded.
TBD – Guests Leave for Grand Parade.  All guests going to the parade will leave via carpool.
10:00 am - 2:00 pm - Charity Event at the Hall of Fame.
This year the charity event will move to the Hall of Fame!!!  Our relationship with J. Babe Stern Community Center remains very strong and the children WILL NOT be overlooked.  (A special consideration is being made for the J Babe kids.)  This year, however, we are partnering with the Hall of Fame to make this charity event the best it has ever been.

 

Prepare for at least 3,000 kids and adults coming through our event!!!  No joke.  With this event on the ground of the Hall of Fame, our exposure will be through the roof!  Of course, we will be posing for pictures, signing autographs and having a great time.

 

REMEMBER THERE WILL BE NO ALCOHOL OR SMOKING PERMITTED AT THIS EVENT!

There will be a special refuge area for fans to take breaks and to refresh.

 

No one will be allowed to sign cards or items using the initials " HOF " We suggest you simply use one of the following:
Joe Doe     -     Joe Doe '04     -     Joe Doe 2004     -     Joe Doe PFUFA '04     -    Joe Doe PFUFA 2004
4:00 pm - 7:00 pm – Enshrinement Celebration Fan Party.  In keeping with the effort to provide as many fans as possible, we will be attending the Fan Party at the Hall of Fame.  We are being asked to mingle with everyone.  (Drinking is permitted, but DO NOT put yourself in a situation that would bring harm to the Hall of Fame or PFUFA.)
7:00 pm - 11:00 PM – Enshrinement of the Class of 2009.  Once again, as many fans as possible are encouraged to attend.  (There will be a cost to the fan for this event.)  This is at Fawcett Stadium next to the Hall of Fame.  The HOF provides limited VIP seating to our group.  The ceremony will be televised by ESPN.
Sunday – 8/9/2009
9:00 am - 12:00pm – PFUFA Breakfast and Ceremony (possibly at the Hall of Fame).  This event replaces the Friday night dinner, but will be better than any dinner we have had.   Our PFUFA awards will be presented, the new draft class will be recognized, and The Fabulous Football Floozies (or a substitute) will be held.  (For those fans that need to leave, this event will not go beyond noon.)
5:00 pm - 8:00 pm – Fan Appreciation Tailgate Party.  For those fans that are still in the area, we encourage everyone to go to this event.
8:00 pm - Hall Of Fame Game.  This game will be at Fawcett stadium. Information will be updated as it becomes available.  If you are planning to go to the game, please attend the Fan Appreciation Tailgate Party.
Monday – 8/10/2009
12:00 pm – Hospitality Room Closes and the 2009 PFUFA Reunion ends.