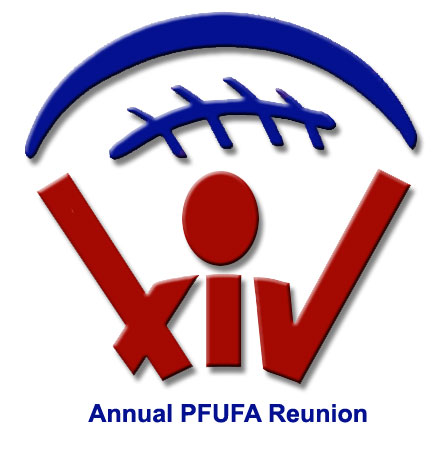 2012 PFUFA Reunion Itinerary
August 2-6, 2012

Weekend in Review:
XIV REUNIONS AND COUNTING……
It is the start of the NFL season and it is also the start of our countdown to the next PFUFA reunion. Our 14th annual reunion was the best to date. We were without our President, Candice Schloegel, who was stuck at home battling illness but was with everyone in spirit at the reunion. We had record highs on contributions to the J.Babe Stearn center from our second annual Texas Hold'em and PFUFA Golf Tournaments.  The weekend began with a more prominent PFUFA presence at the "First Play" event as some of our members actually accompanied the ball through the route, while entertaining the kids, finally joining the rest of the PFUFA at the steps of the brand new entrance of the Pro Football Hall of Fame.
We followed up First Play with our customary trip to the North Akron Children's Hospital where our members greeted kids battling illness and going through treatment so we could give them toys and blankets to try to make it just a little bit better. King Ram was even able to sing Happy Birthday to a little girl going through cancer treatment on her birthday.
Friday we re-elected Stephanie Phillips (Secretary) and Joanie "Best Bills Fan" DeKoker (Treasurer) and welcomed a new Membership Officer Steve "The Owner" Tate. We also elected a new Board of Directors consisting of Cindy "Purple Dame" Pierce, Shawn "Whodey Baby" Moore, Paul "Berniehawk" Gates, Barbara "Gotti Raider" Scaramuzzo and Jimmy "Blaze" Key. Following the business meeting we partied into the wee hours feasting on tailgate fare from around the league with the commissioner of tailgating Joe Cahn!  To read the Annual Business Meeting Minutes, click here (you must be logged in).
Saturday morning we battled the heat and humidity to move the 12th man float through the Timken Grand Hall of Fame parade. We also returned to the Hall of Fame for the kid's charity event, which this year included a few shuttle full of kids we brought over from the Stern Center. Saturday evening has been labeled the "afterburner" for the second night tailgate. The afterburner hosted the cornhole tournament that went to Sudden Death to crown a winner, and was the debut of the first NFC-AFC Pro Bowl touch football game.  A chance of rain drove folks inside to settle in to the poker tournament where potential veteran Elvin DeVorss (Bronconator) won at around 3am!!! We also celebrated Dapper Don's birthday as he turned 77 years young!
Sunday we closed out the weekend reunion by welcoming our new class of veterans during breakfast at the Hall of Fame. The PFUFA class of 2012 was as follows Brian Donley (Dee-Ciple from Baltimore), Bob Hostutler (Burnt River Bob from Cleveland), Adam Goldstein (Tailgate Knight from Chicago via London), Melissa Kelly (Shelby from Dallas), Elvin DeVorss (the Bronconator from Denver), Derek Uzzle (Battle Red from Houston), Ralph Lanier Jr. (Director of Fandemonium from Miami), Mack Cuenca (Mack the Quack from New Orleans),  Nicolas Costea III (The Crusher from Oakland), Charles Solomon (Tatman from Philadelphia), Derek Fournier (Old School from Tampa Bay), Christine Lopez (Huley from Washing ton) and Nick Nerangis (Nickette from Washington) because it just isn't a PFUFA reunion without a pig in a dress! Sgt. Colt greeted the new class with the first challenge of their coins and they responded, actually everyone in attendance had their coin …… except Purple Dame!!!
It is always bitter sweet when we have to say goodbye to our PFUFA family members at the end of the reunion, but we will see some members at games this season and it is only 353 days until reunion XV!!!
Hotel Information:
We will be staying at the Comfort Inn, 2024 State Route 39 NW, Dover, OH (Exit 83, Inst. 77). (330) 364-8881. This will the base of our reunion. The tailgate and hospitality room will be located here. Room prices will be approximately $130 per night. If you are going to make your reservations now, be sure to identify yourself as a PFUFA member. (www.comfortinn.com/hotel-dover-ohio-OH443?amp;promo=gglocal)
In addition, a new "sister" hotel, the Country Inn, is being built adjacent to the Comfort Inn and will be ready in June 2012.  Because it is a brand new hotel, room prices are a bit higher and begin at approximating $139.99.  The hotel is located on the other side of the "little bridge" across from the Comfort Inn. If you'd like to put some "space" between you and the PFUFA Tailgate and would prefer to stay in this hotel, please call the Comfort Inn at (330) 364-8881 using the same instructions listed above.
Names on the waiting list will be offered rooms on a "first come-first serve" basis.  A total of 76 rooms have been blocked out for the 2012 PFUFA Reunion. BETWEEN BOTH HOTELS THERE WILL BE PLENTY OF ROOM FOR EVERYONE!!
If you'd prefer something off-site from the Reunion, here are a couple of options:
1.

The Best Western

is one exit south from Comfort Inn and has plenty of rooms for our fans. Our group rate of $139.99/night. (This hotel is currently a SUPER 8 but is changing to a Best Western and is at:

161 Bluebell Drive Southwest, New Philadelphia, OH

?. Their phone number is

(330) 339-6500.

)

2.

Schoenbrunn Inn

is one exit south from Comfort Inn and has plenty of rooms for our fans. At this time we do not have a group rate. (This hotel is at:

1186 West High Avenue, New Philadelphia, OH

?

?. Their phone number is

(330) 339-4334

?.

)
Thursday – 8/2/2012
9:30 am to 2:00 pm – Pro Football Hall of Fame's "FIRST PLAY."  This is an organized "first play" of the NFL season. Thousands of kids will be lined up through Canton and will pass/hand a football through the city and parks that will end at the Hall of Fame.  The Hall of Fame would like our organization to pass the ball with the kids along a 1.5 mile route starting from the south end of Monument Park and ending at the HOF so be prepared to be in character.  (We will travel through Stadium Park.)  Parking is available at McKinley Museum.  If you would prefer not to make the walk – please join in the festivities in the normal gathering place at the HOF around 10:00 am.  Fans will leave in waves towards the end of this event to go to the Akron Children's Hospital.
12:00 pm – Hospitality Room Opens. The room will be stocked with snacks and beverages. You can sit back, relive old memories, and plan the current season. This area will be open throughout the weekend.
2:00 pm to 4:00 pm - The Akron Children's Hospital Visit.  Bill Waters has arranged a hospital visit for the group, and we will be visiting the children's hospital in the afternoon. Don't forget to bring your blankets!  More information is on the PFUFA Voice message board.  (Fans need to be at hospital by 1:30 pm.)
6:00 pm - PFUFA Membership Committee Dinner Meeting - Dutch Valley Amish Restaurant (1343 Old Rte 39 NE, Sugarcreek, OH). This is a closed meeting available only to the 10 person PFUFA Membership Committee.
Friday – 8/3/2012
8:00 am  to 12:00 pm – 2ND Annual PFUFA Golf Tournament.
Place:  Willandale Golf Course
Date:    August 3, 2012
Time:    8:00 am tee time
Cost:     $20.00 per golfer
Payment will be collected the day before or the morning of and will be paid as a lump sum to the golf course.  We will also be offering 2 mulligans for a donation of $10.00.  Prizes will be awarded for closest to the pin, etc.  All proceeds after that will be donated to PFUFA and/or the Stern Center.   If you are going to play, please contact Stephanie Phillips at This email address is being protected from spambots. You need JavaScript enabled to view it..  When contacting her, please let us know what your golf handicap is or if you don't have one what your playing level is so that teams can be made up accordingly.  (Fans need to be at course by 7:30 am.)
9:30 am – Float Judging for Grand Parade. Our sponsor encourages as many fans as possible to participate in this event.  Everyone will need to leave hotel by 8:30 to 8:45 am.  ALL 2012 POTENTIAL VETERANS ARE REQUIRED TO ATTEND THIS EVENT.  All PFUFA members and guests not attending the golf tournament are encouraged to participate.
12:00 pm to 1:00 pm - PFUFA Potential Veteran Meeting to be held in the Comfort Inn Hospitality Room.  In this meeting, the President will have an open forum meeting with all Potential Veterans to discuss the weekend, the draft process, the history of PFUFA, the meaning of being a PFUFA member, and the PFUFA Challenge Coin.  This is a MANDATORY meeting for all Potential Veterans being considered for membership.  This is a closed meeting available to Potential Veterans, PFUFA officers and the PFUFA Membership Committee only. (All officers and membership committee members will attend as possible.)
1:00 pm to 2:00 pm - PFUFA Potential Veteran Meet & Greet to be held in the Comfort Inn Main Lobby.  Members are invited to visit with the 2012 Potential Veterans. Around 1:15 each Potential Veteran will give a "short" speech introducing themselves to any members in attendance.
2:00 pm to 4:00 pm – The annual PFUFA Business Meeting is open to all dues paying members of PFUFA. This means ONLY ACTIVE MEMBERS will be allowed to attend. This meeting is designed to keep members informed and vote on important issues. (As voted on at the 2009 Reunion, only members in good standing are allowed to attend, please be sure to help police this policy.)
7:00 pm to 12:00 am – PFUFA Tailgate at hotel. For the fourth year, our annual tailgate will be held on Friday night!!! Please plan accordingly!! As always, this will be a "pot luck" tailgate, so bring your favorites to share with fellow members and their guests. The success of this event depends on your participation. We encourage everyone to bring something.
Saturday – 8/4/2012
6:00 am – Fans Leave for the Grand Parade. All Fans participating in the Grand Parade will leave from the hotel lobby. Transportation will be carpool. Seating on the float is limited so everyone should bring their walking shoes.
TBD – Guests Leave for Grand Parade. All guests going to the parade will leave via carpool.
10:00 am to 1:30 pm - Charity Event at the Hall of Fame.
We will be holding our Charity Event at the Hall of Fame again this year. We will be talking with the HOF soon to work out details. All concerns from last year's event will be addressed, and we will post more information as we have it.
With this event on the ground of the Hall of Fame, we will need to take extra precautions to maintain our image and relationship with the Hall. Of course, we will be posing for pictures, signing autographs and having a great time.
REMEMBER THERE WILL BE NO ALCOHOL OR SMOKING PERMITTED AT THIS EVENT!
As with last year, no one will be allowed to sign cards or items using the initials "HOF " We suggest you simply use one of the following:
Joe Doe    -    Joe Doe '04    -    Joe Doe 2004    -    Joe Doe PFUFA '04    -    Joe Doe PFUFA 2004
2:00 pm - The PFUFA Membership Committee will meet in the Comfort Inn Hospitality Room immediately following the PFUFA Charity Event held at the Hall of Fame. This meeting is to provide further discussion of the Potential Veterans and cast final votes for membership in the PFUFA.
4:00 pm to 7:00 pm – Enshrinement Celebration Fan Party. Once again this year, we be offering this party as part of the ticket packages.
4:00 pm to 7:00 pm - 1st Annual PFUFA Pro Bowl Game! Finally our members are going to get out there and finally decide which conference has bragging rights on the field. The game will be held on Saturday afternoon/evening and will be AFC FANS vs NFC FANS, there will be an open sign-up sheet in the hospitality room, we would like to have at least 10 on 10, and it is open for everyone to play. Reminder to everyone this is a 2 hand touch game, no one needs to get hurt!
7:00 pm to 11:00 pm – Enshrinement of the Pro Football Hall of Fame Class of 2012. We are encouraging as many fans as possible to attend. This is at Fawcett Stadium next to the Hall of Fame.
7:00 pm to 12:00 pm – Tailgate Party II.  For those members that are not attending the HOF Events, we will be holding a "Carry Over Tailgate Party" at the hotel. This will be more relaxed and less organized than the Official Tailgate Party on Friday night. If you know that you will not be attending the HOF Events, please be prepared to attend this.
8:00 pm to TBD - 3rd Annual PFUFA Charity Texas Hold'em Tournament.  We will have our charity hold'em tournament in the hospitality room, buy-in will be $10.00 and buy-backs will last for the first hour.  This is all for charity and no one will win any money! Trophies will be given out for 1st, 2nd, and 3rd.  Everyone who would like to play needs to contact Adam Dillman sometime during the Reunion.  Everyone who is not attending the Hall events is encouraged to play.
Sunday – 8/5/2012
8:30 am to 12:00 pm - PFUFA Breakfast and Ceremony at the Hall of Fame. Our PFUFA awards will be presented, the new draft class will be recognized, and other events will take place.
THE SILENT AUCTION WILL END AT THE PFUFA BREAKFAST and all items for bid will be taken to the breakfast. If you win an item, you need to pick it up at the breakfast.
5:00 pm to 8:00 pm – Fan Appreciation Tailgate Party. Once again this year, we be offering this party as part of the ticket packages.
Monday – 8/6/2012
12:00 pm – Hospitality Room Closes and the 2012 PFUFA Reunion ends.