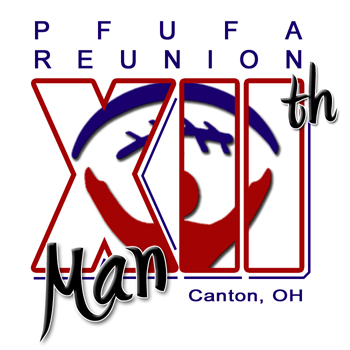 2010 PFUFA Reunion Itinerary
August 5-9, 2010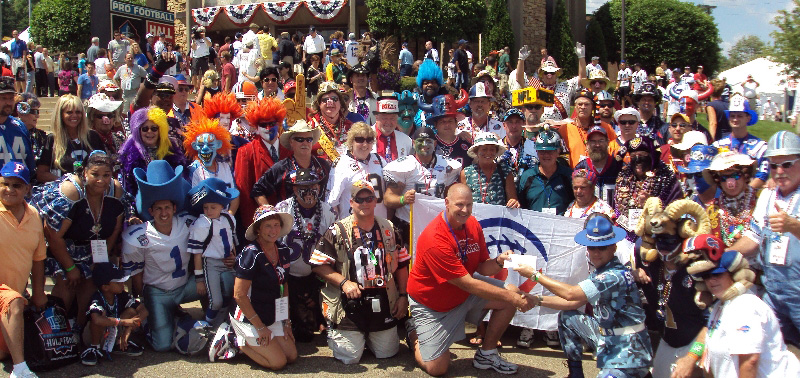 Weekend in Review:
The 12th Annual PFUFA Reunion was a great success and a great relief.
This reunion was our largest reunion to date.  We had over 60 active members attend and had 14 Potential Veterans.  With family and friends, we had over 200 in total attendance.  The Comfort Inn was just busting at the seams, and our overflow just about filled up two other hotels.  A total success.
Moving forward, our hotel situation is only going to get better.  The Comfort Inn announced that a SECOND HOTEL was being built in the area between the back of the current hotel and the freeway entrance.  The bridge to the new area was already installed, and we were told that we will be first priority for the new hotel.  The new hotel will be a Country Inn and Suites and is expected to open no earlier than HOF Weekend 2011 and no later than HOF Weekend 2012.  We could end up with our own little compound.  Another total success.
We had a record number of members come in on Wednesday this year.  Everyone was very excited to get the weekend started, but also to take part of our new THURSDAY schedule.  This was the second year for our participation in the First Play, and it worked out extremely well.  This year, however, we did not help pass out the meals.  Instead, we signed autographs on shirts, passed out trading cards, and handed out flyers for our Saturday Charity Event.  (By the way, GREAT SUCCESS on the flyers, but I will talk about that later.)  We spent nearly 4 hours giving attention to all the kids in First Play.  A great success.
For the afternoon of Thursday, BukDog organized a visit to the Akron Children's Hospital.  WOW! is all that can be said.  What an awesome job Bill did for us, and what a blessing to see those children smile.  We were told that some of them had not smiled in over six months.  By the middle of the next day, the Administrator of the hospital receive nearly 50 emails and many phone calls from family members thanking them for bringing us to visit.  So much positive came out of that visit, that Bill's point of contact was told, "You WILL have them back next year."  I think I can say in all seriousness that we have just officially added another event to the weekend.  AMAZING JOB BILL!! and of course, AWESOME SUCCESS!!
On Friday, I was able to send everyone to the correct address this year and the float judging was handled quiet well. We won ANOTHER award this year, and our sponsor was very happy.  Another Success!!
Later that day, we held our Annual Business meeting.  If you want to read the minutes, click here (you have to be logged in).  Without going into every detail, we accomplished something that has NEVER BEEN DONE in our 12 year existence.  We successfully and completely overhauled the By Laws, created a Board of Directors and established a new office of Membership Officer!!  Also, we made our organization an Official State Non Profit in the State of Ohio!  We had previously been registered, but needed to change the By Laws to make it official.  CONGRATULATIONS TO ALL MEMBERS THAT GOT THIS DONE!!!!  For those that did not attend, we accomplished another first.  We stayed in that business meeting for 5 HOURS straight!!  ABSOLUTE COMPLETE SUCCESS!!
We also elected new officers, and this is where the relief comes in.  After much discussion by many members, we elected new and old officers, and we appointed our first Board of Directors.  You can see our new leadership page by clicking here, but here is a quick list:
President - Candice Dillman (Go Go), Class of 2008, New Orleans Saints
Vice President - Karl Sides (Ram Man), Class of 2004, St. Louis Rams
Membership Officer - Joe Banowsky (Joe Texan), Class of 2004, Houston Texans
Treasurer - Joanie DeKoker (Best Bills Fans), Class of 2003, Buffalo Bills
Secretary - Stephanie Phillips, Class of 2004, Philadelphia Eagles
Board of Directors - Sheree Pinea (Mrs. Purr), Lionel Alphonso (Da Pope), Don Wachter (Bear Man), Ron Rickard (Raider Ron), and Danny Dillman (Sergeant Colt)
Success, success, success....  (oh and relief, I'm not the president.)
The tailgate on Friday night was a cross-section of football gourmet.  From 2 inch diameter scallops and more than a fist full of crab meat in a cake to grilled asparagus to brauts to lamb to ribs to crawlfish pasta to (of course) Bengal Bombs.  Joe Conn was on hand as always, and the festivities were over-the-top...which included Crack performing the infamous "Flea Flicker."  And of course, you cannot forget the Apple Pie (and I am not talking about the one that is eaten with a folk).  We also had our first annual Corn Hole tournament, great fun.  A very full success.
Saturday started with the parade.  This year was a little different with the float, and those items are being worked out with our sponsor.  (We had to sit on the float and could not stand.  The only real bad part of the weekend.)  We did, however, park at the Hall of Fame this year and were shuttled to the parade and back to the Hall afterwards.  This was a great idea and really worked well for us.  All-in-all, success.
The Charity Event was an unbelievable success.  Far too many kids to get an accurate count, and the line into the tent was a steady 40 deep.  The Potential Veterans were given a task when they checked in on Wednesday or Thursday to "find a broom stick."  They were not given details, but they found out their mission on Saturday.  While the Charity Event was going on, they pulled shifts and went about the crowd on the Hall of Fame campus waving PFUFA Flags on a broom handles and attracting attention to our event.  This, on top of the flyers passed out on Thursday, really put our event over the top.  Great job Class of 2010!  The rest of the event was too great to adequately capture.  Balloons, give-a-ways, Tim Haverstock on the Mic, trading cards, pictures, beads, etc.  Awesome success!!
The rest of Saturday was unofficial.  Some went to the parties and enshrinement, while everyone else did their own thing.  Back at the hotel, members and families hung out, and we held another first--our first Annual Charity Texas Hold em tournament.  It was a $10 buy in and all monies went to the J. Babe Stern Center.  Great fun and Joanie DeKoker was the winner.  It was an All-In success.
Sunday Morning Breakfast was a great time.  Having our official meal at the Pro Football Hall of Fame is a wonderful way to cap off the weekend.  Of course, the food is great, and the environment is the best.  We had our normal $1 per minute speeches, and the new class performed very well.  We ended our Silent Auction at the Hall this year, and gave everyone just a little more time to put that last bid in.  We gave out our organizational awards, and the winners were:  Ram Man for the Bellringer Friendship Award, Harry Trout for the Jason Carlson Courage Award, and Candice Dillman for the President's Award.  At the end of the breakfast, we welcomed our Class of 2010.  Eleven new members received their coins and were welcomed aboard.  A deserved success.
After the breakfast, many members left the area to be back at work on Monday morning.  For those that stuck around, mostly it was hanging out at the hotel and going to the tailgates and the HOF Game.  On Monday morning, everyone else said their goodbyes and left.  The 12th Annual PFUFA Reunion closed and was nothing but a TOTAL SUCCESS.

Former President
Hotel Information:
Once again, we will be staying mainly at the Comfort Inn, 2024 State Route 39 NW, Dover, OH (Exit 83, Inst. 77). (330) 364-8881. This will the base of our reunion. The tailgate and hospitality room will be located here. Room prices will be approximately $110 per night. If you are going to make your reservations now, be sure to identify yourself as a PFUFA member. (www.comfortinn.com/hotel-dover-ohio-OH443?amp;promo=gglocal)
Our Reunion Committee has called and arranged these options at the following hotels:
1.

The Best Western

is one exit south from Comfort Inn and has plenty of rooms for our fans. Our group rate of $139.99/night. (This hotel is currently a SUPER 8 but is changing to a Best Western and is at:

131 Bluebell Drive Southwest, New Philadelphia, OH

?. Their phone number is

(330) 339-6500.

)

2.

Schoenbrunn Inn

is one exit south from Comfort Inn and has plenty of rooms for our fans. At this time we do not have a group rate. (This hotel is at:

1186 West High Avenue, New Philadelphia, OH

?

?. Their phone number is

(330) 339-4334

?.

)
Thursday – 8/5/2010
10:30 am to 2:00 pm – Fans need to be in front of the Hall of Fame around 10:30am.  Pro Football Hall of Fame's "FIRST PLAY." This is an organized "first play" of the NFL season. Thousands of kids will be lined up through Canton and will pass/hand a football through the city and parks that will end at the Hall of Fame. PFUFA should participate in this event, but details have not been worked out. If we do, be prepared to be in character.  Fan will leave in waves towards the end of this event to go to the Arkon Children's Hospital.
12:00 pm – Hospitality Room Opens. The room will be stocked with snacks and beverages. You can sit back, relive old memories, and plan the current season. This area will be open throughout the weekend.
2:00pm to 4:00 pm - The Arkon Children's Hospital Visit.  Bill Waters has arranged a hospital visit for the group, and we will be visiting the children's hospital in the afternoon.  More information is on the PFUFA Voice message board.
Friday – 8/6/2010
09:30 am – Float Judging for Grand Parade. Our sponsor encourages as many fans as possilbe to participate in this event. (We will be sure to send everyone to the correct address this time.)  Everyone will need to leave hotel by 8:30 to 8:45 am.
12:00 pm - 1:00 pm - Draft Prospect Meeting. This meeting was held in 2009 and now has become an official event of our reunion weekend. In this meeting, the president will have an open forum meeting with all Draft Prospects to discuss the weekend, the draft process, the history of PFUFA, the meaning of being a PFUFA member, and the PFUFA Challenge Coin. This is a MANDATORY meeting for any prospect that is being considered for membership. (Guest, that are also prospects, may attend the meeting for information.)
2:00 pm - 4:00 pm – The annual PFUFA Business Meeting is open to all dues paying members of PFUFA. This means ONLY ACTIVE MEMBERS will be allowed to attend. This meeting is designed to keep members informed and vote on important issues. (As voted on at the 2009 Reunion, only members in good standing are allowed to attend, please be sure to help police this policy.)
7:00 pm - 12:00 am – PFUFA Tailgate at hotel. For the second year, our annual tailgate will be held on Friday night!!! Please plan accordingly!! As always, this will be a "pot luck" tailgate, so bring your favorites to share with fellow members and their guests. The success of this event depends on your participation. We encourage everyone to bring something.
Saturday – 8/7/2010
6:00 am – Fans Leave for the Grand Parade. All Fans participating in the Grand Parade will leave from the hotel lobby. Transportation will be carpool. PFUFA and our sponsor The Health Plan request as many fans on the float as possible. Walkers are also encouraged if the float gets crowded.
TBD – Guests Leave for Grand Parade. All guests going to the parade will leave via carpool.
10:30 am to 1:30 pm - Charity Event at the Hall of Fame.
We will be holding our Charity Event at the Hall of Fame again this year. We will be talking with the HOF soon to work out details. All concerns from lastyear's event will be addressed, and we will post more information as we have it.

 

With this event on the ground of the Hall of Fame, we will need to take extra precautions to maintain our image and relationship with the Hall. Of course, we will be posing for pictures, signing autographs and having a great time.

 

REMEMBER THERE WILL BE NO ALCOHOL OR SMOKING PERMITTED AT THIS EVENT!

 

As with last year, no one will be allowed to sign cards or items using the initials " HOF " We suggest you simply use one of the following:
Joe Doe - Joe Doe '04 - Joe Doe 2004 - Joe Doe PFUFA '04 - Joe Doe PFUFA 2004
4:00 pm - 7:00 pm – Enshrinement Celebration Fan Party. Once again this year, we be offering this party as part of the ticket packages. More details will follow when we have them.
7:00 pm - 11:00 PM – Enshrinement of the Class of 2010. We are encouraging as many fans as possible to attend. This is at Fawcett Stadium next to the Hall of Fame. The HOF provides limited VIP seating to our group with ticket packages (ask Lady Titan about the quality of this seating). The ceremony will be televised by ESPN.
TBD - For those members that are not attenting the HOF Events, we will be holding a "Carry Over Tailgate Party" at the hotel. This will be more relaxed and less organized than the Official Tailgate Party on Friday night. If you know that you will not be attending the HOF Events, please be prepared to attend this.
Sunday – 8/8/2010
9:00 am - 12:00pm – PFUFA Breakfast and Ceremony at the Hall of Fame. Our PFUFA awards will be presented, the new draft class will be recognized, and other events will take place.
THE SILENT AUCTION WILL END AT THE PFUFA BREAKFAST and all items for bid will be taken to the breakfast. If you win an item, you need to pick it up at the breakfast.
5:00 pm - 8:00 pm – Fan Appreciation Tailgate Party. Once again this year, we be offering this party as part of the ticket packages. More details will follow when we have them.
8:00 pm - Hall Of Fame Game. This game will be at Fawcett stadium. The HOF provides limited VIP seating to our group when tickets are purchased in the packages (ask Lady Titan about the quality of this seating). If you are planning to go to the game by itself, tickets will be available.
Monday – 8/9/2010
12:00 pm – Hospitality Room Closes and the 2010 PFUFA Reunion ends.